Please, click the image to enlarge

Designed to fit built in or clamp on rod holders, Rod Riggers are made to point your fishing rods out to either side of your boat for easy trolling of Bluefish, Stripers, Striper Rockfish, Tuna, Marlin. Extend your trolling pattern without the cost of outriggers. Comes with safety strap and clip.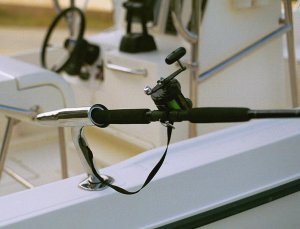 Increase your trolling spread and catch more fish with new swept-back Outriggers from SMITH. Strong, stylish and functional, made entirely of highly polished 316 stainless steel, these Outriggers will compliment the look of any boat. Features a strong 48" nylon rod safety strap, long enough to fight a fish without unlatching. For use in metal gunnel rod holders only.

Designed to withstand daily use in the harsh marine environment and still look great, the Tigress rod rigger is made of stainless steel and polished to a high-luster finish. Extend your fishing rod beyond the side of your boat. Nylon safety strap ensures the rod stays on-board