Please, click the image to enlarge


The GS-380 fishing outrigger is the ultimate solution for larger fishing boats, with either hardtop or soft top installations.
Enhanced design of the rotator lever provides a sleeker more ergonomic shape, using polished Stainless Steel and UV-resistant
non-slip Santoprene™. Sold as a pair.
Rate it!
Results:
4.09
after
11
votes.



The GS-280 is the 4th generation of the top mount fishing outrigger, that sets the standard in the industry. The easy pull down rotator handle offers 12 locking fishing positions and is operated from the helm. The offset handle on the GS-2701 allows additional clearance for fiberglass hardtop installations. The adjustable arm offers multiple positions for fishing and lay down for bridges, storage, and trailering. Sold as a pair.
Rate it!
Results:
4.67
after
27
votes.



Designed for Soft and Hard Tops up to 2" Thick, the new Grand Slam 380 Boat outrigger Kit Includes: (2) GS-380 Outrigger Mounts with Offset Handle, (2) Tele-Outriggers HD 1-1/2" Diameter x 15 Feet (choice of Silver/Gold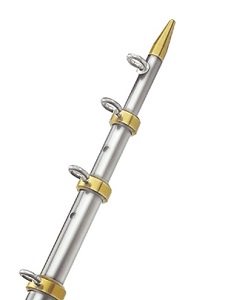 , Silver/Silver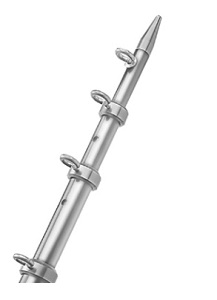 , Black/Gold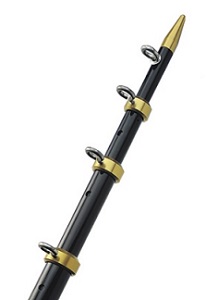 ), Premium Rigging Kit and a Line Caddy.

Made of durable anodized aluminum & stainless steel components. Bushing available to sleeve down to 1 1/8" I.D. to fit 12' & 15' standard outrigger. Kit Includes: (2) GS-270 Outrigger Mounts , (2) Tele-Outriggers 1-1/2" Diameter x 15 Feet (choice of Silver/Gold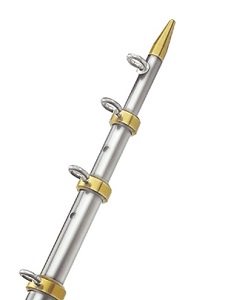 , Silver/Silver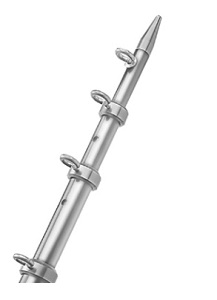 , Black/Gold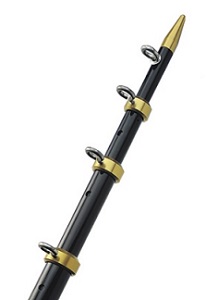 ), Premium Rigging Kit and a Line Caddy.

1-1/8" ID Sport Slam Outrigger Bases. Innovative bolt down mount, Ideal for smaller 15 to 21 feetcenter console boat T Top. Operates from above the top with an easy spring pin that offers multiple fishing positions. Also has the lay down arm feature for bridge clearance and trailering.
Rate it!
Results:
4.25
after
12
votes.



Taco Striker skiff flush mount base is one of the strongest gunnel mount bases on the market today and features a unique locking mechanism. These ambidextrous arms will fit both port and starboard bases and feature 12 locking positions. Constructed from stainless and compatible with Lee™, Perko™, & Rupp boat outrigger poles.
Rate it!
Results:
3.91
after
11
votes.



This clamp-on design of the center rigger mount allows for easy installation on most T-tops. Kit includes clamp-on center rigger, your choice of silver or black, 8' or 12' Tele-Outrigger pole (1) and standard rigging kit. The clamp-on mount, fits either 3/4" IPS and 1" IPS pipe found on the hoop of most standard T-Tops.

Retracts in only a few seconds for Trailering & dry boat storage & bridges
Reducing stress on your gunnel & holder. Quick convenient stowage & theft prevention, Outriggers retract to less than 6 ft.
Ease of operation with stainless steel spring buttons & durable eyelets.
Rate it!
Results:
4.71
after
7
votes.


Marine Lumber wedges for use with curved T-tops. Available in 4" x 6"-7 degree and 4" x 6"-11 degree. Sold in pairs.

Taco 1/4'' Anodized Aluminum Backing Plates are recommended for extra strength and when mounting Grand Slam Fishing Outriggers Top Mounts through a hard top.

Includes: 2 quality release clips, shock cord w/stainless steel snaps and pulley, barrel swivels, snap swivels, crimps, stainless steel pad eyes, balsa wood floats and screws, 100 ft. of UV protected dacron line. The outrigger kit can be used with any manufacturer's outriggers. All packaged in a durable blue marine mesh bag.