Please, click the image to enlarge

This Stylish rail mount fits virtually any pipe or tube and constructed frompolished marine grade 316 stainless steel. Also offers 20 tilt positions, rotates 360 degree and locks at every 18 degree. Available in Silver only for 7/8", 3/4", 1", 1-1/4" tube OD, and 1-1/4", 1-1/2" pipe sizes
Rate it!
Results:
4.2
after
10
votes.

More info and specs...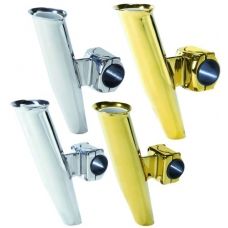 Clamp can be turned for either vertical or horizontal mounting anywhere on your boat. Unscrew the cap, turn 90 degrees and the rod holder becomes a vertical clamp.  Investment cast stainless steel with a strong integrally-cast gimbal pin. Mirror polished silver finish. Available in Gold and Stainless. Available in Gold or Silver finish for 3/4", 1", 1-1/4" and 1-1/2" pipe sizes

Aluminum pole holders are as beautiful as they are functional. With no hassle or wear and tear on your boat you can install these rod holders with only an Allen Wrench. Available in Vertical, Horizontal and 45 degree mounting styles. Anodized in either Gold or Silver finish after fabrication for 100% protection. Black or White powder coat finish is also available.

Center Riggers are constructed from 316 marine grade stainless steel. Installation is simplified by the use of a clamp-on mount, that fits either 3/4" IPS and 1" IPS pipe found on the hoop of most standard T-Tops. Uses 1-1/8" mount outrigger.

Male splines offer easy alignment and allows the angle and positioning of the fishing rod holder to be adjusted with a standard Allen wrench. This unique technology, eliminates welding and crazing caused by traditional methods requiring welding to anodized pipe. Available in 1-3/4" ID Polished Aluminum (silver)